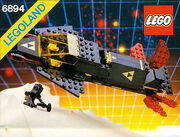 6894 Invader is a
Blacktron
set released in 1987. It contains the
Invader
, a small robot and a
Blacktron Astronaut
minifigure. The set costed $14.25 USD and had 156 pieces.
The ship included three main sections: The cockpit section, the cargo container in the middle and the drive section at the aft. The sections are compatible with other Blacktron sets. The ship had tiles on it that included the Blacktron symbol.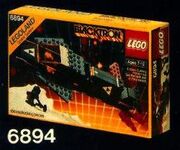 Ad blocker interference detected!
Wikia is a free-to-use site that makes money from advertising. We have a modified experience for viewers using ad blockers

Wikia is not accessible if you've made further modifications. Remove the custom ad blocker rule(s) and the page will load as expected.