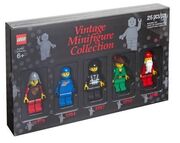 852752 Vintage Minifigure Collection Volume 4 is a LEGO set released in 2009. The set includes a Blacktron Astronaut minifigure. The other minifigures that it comes with are: a LEGO Castle Knight, Santa Claus, a Blue Classic Spaceman and a Forestman. The set costs $19.99 USD and includes 22 pieces.
LEGO.com Description
Edit
LEGO' oldies but goodies!
Take a trip down memory lane with this vintage minifigure collector's gift box set. Includes 5 classic minifigures from the past: a 1978 LEGO Castle Knight minifigure, 1984 Blue Space minifigure, 1987 Blacktron minifigure, 1990 Forestman minifigure and 1998 Santa Claus minifigure. A must-have for any LEGO fan's collection!